ABOUT ME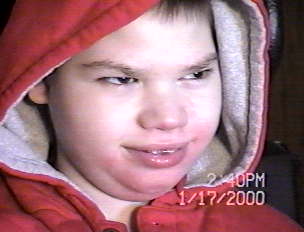 "THIS IS MY STORY"
HELLO IM TRAVIS LEE, MY BIRTHDAY IS DECEMBER 31,1990 WHICH MAKES ME 10 YEARS OLD. SIT BACK RELAX AND ENJOY MY STORY.A LOT OF PEOPLE FIND ME DIFFERENT,BUT I DONT SEE IT MY SELF. DO YOU?


WELL HERE GOES: MY MOM AND DAD ARE HELPING ME TYPE THIS SO HOPEFULLY THEY WONT MESS UP.I WAS BORN A FULL TERM BABY, THAT CORD THINGY WAS WRAPPED AROUND MY NECK IT CUT OFF ALL OF THE OXYGEN TO MY BRAIN.(I WAS OKAY)MY MOM TOOK ME HOME AND I STARTED TO GROW.AT THIS TIME IN MY BABYHOOD I WAS FINE TOTALY NORMAL. (WHAT IS NORMAL?) BUT AS I GREW THINGS CHANGED, I DEVELOPED ALOT OF PROBLEMS,I'LL TELL YOU ALL ABOUT THEM LATER.I LIKE TO DO LOTS OF STUFF, I HAVE A KILLER HUG AND A GREAT BIG SMILE.I LOVE PEOPLE. I GO TO SCHOOL,I AM IN THE 2ND GRADE I HAVE LOTS OF GIRLFRIENDS.(KEWL) I LOVE MUSIC,MY DOGGIE AND PLAYING NINTENDO WITH MY BIG BROTHER KEITH.MY FAVORITE TOYS ARE ANYTHING MUSICAL,SHOOTIN HOOPS,AND BEST OF ALL I LOVE TIGGER HES COOL,I LIKE TO BOUNCE LIKE HIM.


I GUESS I SHOULD TELL YOU MORE ABOUT MY PROBLEMS,I HAVE A FEW.IF YOU DONT UNDERSTAND E-MAIL ME AND I WILL TRY MY BEST TO EXPLAIN IT TO YOU.
#1-HYDROCEPHALUS
WHICH IS FLUID ON THE BRAIN. I HAVE A THINGY CALLED A SHUNT WHICH HAS A TUBE THAT RUNS FROM MY HEAD INTO MY TUMMY, TO KEEP THE FLUID MOVING THRU MY BODY.
#2-CEREBRAL PALSY
IT IS A MUSCLE RELATED PROBLEM AND CAUSES RETARDATION IN SOME PEOPLE.I DONT HAVE GOOD MUSCLE TONE. SOMETIMES MY HEAD WONT STAY UP.I CANT DO THINGS LIKE WALK,SWIM OR EVEN SIT UP BY MYSELF.BUT THATS OKAY, I'M COOL.
#3-GASTROSTMY TUBE
I HAVE A TUBE (IT LOOKS LIKE A BUTTON) IN MY TUMMY THAT I EAT THROUGH.I HAVE TO EAT LIKE THIS BECAUSE I ASPERATE EVERYTHING.I DO GET SMALL TASTES OF ICE CREAM, MASHED TATERS AND STUFF.I THOUGHT EVERYONE HAD A BUTTON. HEHE!
#4-R.A.D.
THIS IS REACTIVE AIRWAY DISEASE.ITS LIKE ASTHMA. I HAVE A HARD TIME BREATHING WHEN I COME IN CONTACT WITH FRESH CUT GRASS, HAY AND ALOT OF DUST.I TAKE BREATHING TREATMENTS FOR THIS.


I HAVE A NICE WHEELCHAIR,A BIG BLUE BATHCHAIR, AND A 4-WHEELIN STROLLER. SURE I HAVE LOTS OF THINGS GOING ON WITH ME BUT I DONT COMPLAIN,I AM A HAPPY KID.I LOVE MY FAMILY, AND EVERYBODY I MEET. I DONT SEE ALOT OF DIFFERENCES BETWEEN YOU AND ME. "DO YOU" I HOPE YOU ENJOYED MY STORY, PLEASE SIGN MY GUESTBOOK.
HOME